After only a few years, boy and girl choristers singing at Christ Church
Cathedral can move through a vast repertory of music, performing to concert
standard well over a hundred works, ranging across five centuries. They can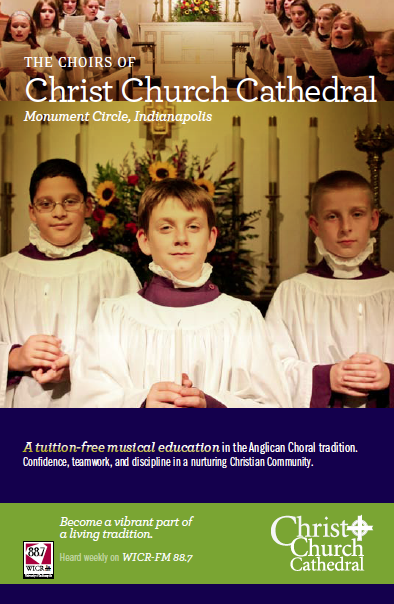 perform alongside professional adults without feeling the need to compensate for youth and inexperience. They sing in public at least twice per week, with broadcasts on WICR-FM (88.7) radio in Indianapolis. Not only is this experience tuition free, but our choristers receive an honorarium for their work. Above all, they sing in a nurturing, Christ-centered community that is dedicated to their success.
Find out more about our life-changing Choir program, where choristers travel throughout the U.S. and abroad, learn a huge variety of amazing music from centuries of traditon and more.
Click here to see our Choir brochure.
Click here to listen to our Choir in action - a preview from our forthcoming CD!


Or contact Dr. Dana Marsh to learn more.
Danam@cccindy.org or 317-636-4577